It was against the backdrop of the volatile interwar years in Europe that celebrated Danish landscape architect, Carl Theodor Sørensen first conceived of the idea of skrammellegepladsers or, "junk playgrounds". Observing children playing in junkyards and construction sites, he was struck by the notion that, through a child's eyes, almost any object could become beautiful and useful. He introduced the idea of creating makeshift spaces where children could play with timber, old cars, and metal scraps. This marked the earliest partnership between landscape architects and children's play spaces.
Sørenson ultimately collaborated with a Danish schoolteacher to build the first "adventure playground" on the outskirts of a Copenhagen housing estate during the German occupation. In the intervening years, adventure playgrounds became increasingly popular across Europe where they often sprung up from the rubble of the post-war landscape. Visually, adventure playgrounds lacked the colorful, symmetrical, harmony of the modern children's play space. But that was precisely the point. In creating no predetermined agenda for play, these spaces allow children to take the lead, using both their hands and their imagination.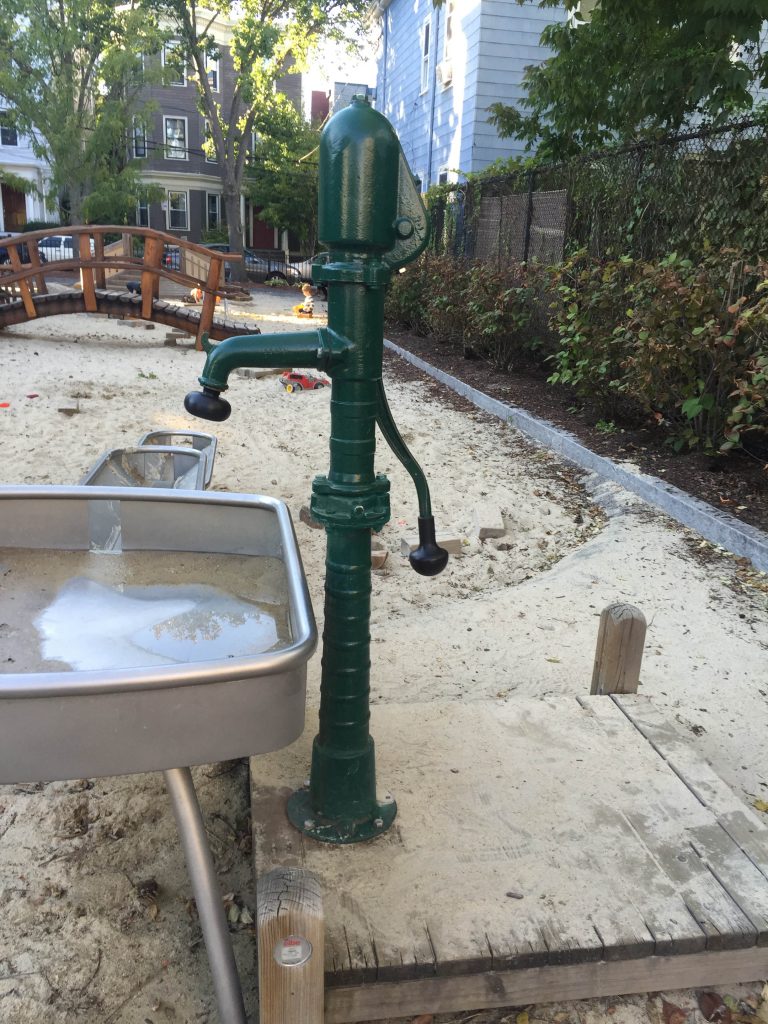 Europe is still home to over a thousand adventure playgrounds; Germany alone has nearly 400. These spaces are often dotted through concrete landscapes, or nestled in crowded, working class neighborhoods. "The Land" in Wrexham, Wales, is situated inside the housing estate of Plas Madoc, and was the subject of a 2012 documentary film. Operated by volunteers, The Land consists of a one-acre play area with piles of tires, pallets, wheelbarrows, fishing nets, stray hammers and other odds and ends.
Berlin, a city of 4 million people, is home to over 1,850 play parks. One of its most famous is Abenteuerlicher Bauspielplatz (Adventure Playground) Kolle 37. The single-acre park was built in 1990 near the center of the city. Children can use tools, build huts, make fire, dig in the garden, or work with animals. While most parks in the city are more traditional, it's virtually impossible to find a play space that isn't made largely from wood and other natural materials. The Dragon Playground features an enormous dragonhead, perched atop four wooden pillars masquerading as the creature's legs, with slides spitting from its right flank and tail. Nestled in the Witch Playground is a miniature house, plucked straight from a fairy tale, replete with a spider web window and a curving, shingled roof. Enormous rubber mushrooms and animals fashioned from wood and spring coils dot the remaining background.
In the litigious United States, liability issues make adventure playgrounds a rare species. The largest still in existence has been around since 1979 in Berkeley, California. Adult supervision is minimal, and kids are allowed to roam free, using saws, building with wood, traversing rope nets, and playing with discarded industrial supplies. What's significant about this and other adventure playgrounds is the emphasis on the process of play, rather than any end product. Physical materials give children the opportunity to play collaboratively, and to use their imaginations in the art of construction. Allowing them to utilize "adult" tools and materials helps to foster independence and confidence. Calculated risk is the whole point.
The American playground aesthetic has long relied on a standard form using largely static equipment, but a growing movement, grounded in the use of natural materials and designs, is gathering pace. These play spaces not only resemble nature, they include many of its offerings–loose logs, sand and water. The features are open to a multitude of uses, allowing the children themselves to direct their own play. Two of the most prominent examples rest on opposite sides of the country. The Alexander W. Kemp playground at the Cambridge Common, in Cambridge, Massachusetts was completed in the summer of 2009. The play area design is a natural landscape of hills, valleys, wooden branches and stumps. Features such as sand and water play give children an opportunity to interact with the materials of the park, creating a new experience with each visit. Traditional playground equipment is somewhat ancillary; slides are embedded into the sloping hills, trees are designed to be climbed.
In October 2014, the first nature-based play area in Portland, Oregon was completed. Sitting on the 42-acre Westmoreland Park on the southeast side of the city, the play area was part of a pilot project for a Nature Based Play Initiative, a program designed to curate a stronger relationship between children and their natural environment. Bordered by an expansive duck pond and a grove of mature sequoias, the area includes scalable log towers, a stream channel with water pumps that children can manipulate, a large sand areas, and stacks of loose logs which children can fashion into huts and hiding places.
The relative absence of plastic material and geographic symmetry work together to create fabricated spaces redolent of the wooden fairytale playgrounds throughout Europe. The nature playground is a facsimile of the natural world. It invites children to engage with the space while reconnecting with nature. Conveyor belts, shakers, and water features encourage children to experience play in the most tactile way. These playgrounds are a reminder that the simplest materials are often the best materials. At Goric, we recognize the importance of sensory play, and the ways in which natural, functional materials can facilitate it.
The reality for many city children is that green space isn't always at arm's length. And when play space is accessible, it is often constrained by formulaic design concepts. The muted color pallets and asymmetrical topography of nature playgrounds helps to aesthetically bridge the gap between the urban and the rural. Though the composition is contrived, it is designed to look as though it isn't. In the abstract, these spaces are the descendants of the junk playgrounds. They are rooted in a historical time when children learned about their physical environment by tangibly exploring it. In this way, these play spaces help children attain a different kind of gratification, one they can create entirely for themselves.