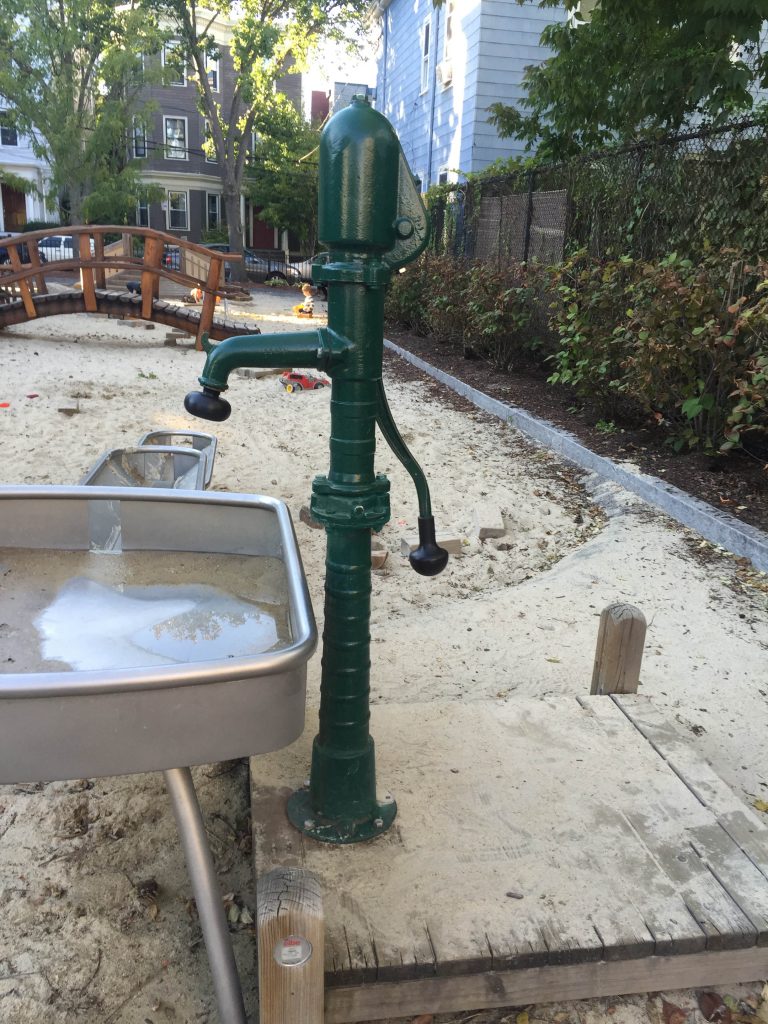 They say one never knows the worth of water until the well runs dry. It was on the heels of the most severe drought in recorded history that my family and I recently moved from California to the Pacific Northwest. We'd taught the kids to treat water like gold. We'd kept our fruit trees alive by manually pumping bathwater through a 100-foot garden hose. The lawn had gone from brown, to weedy, to solid, hard dirt.
At the first summer rain in Washington State, our toddler looked up at the sky shrieking with glee. We realized she'd quite literally never felt rain on her face.
Children and water are magnetically linked. It is, perhaps, the most beguiling of all the earthly matter they'll encounter in the course of their early play. Beyond simple entertainment, it often serves as one of their most profound terrestrial teachers.
Child development experts credit water play as a critical element in primary scientific exploration. Through play, children grasp a foundational understanding of flow, volume, motion and cohesion. Water helps to create textures found in mud and wet sand, which appeal to children's sensory interests—who hasn't spent hours at the beach making drip castles? With water, children can learn about measurement and gravity. Water teaches biology, through the growth of plants and flowers. Beyond that, children simply love the feeling of splashing, spilling, spraying and getting wet.
Few interactions with water bring more joy to a child than manipulating a tap or a hose on their own. Goric anticipates children's kinetic relationship with water through its extensive collection of sand and water play products. The various pumps, valves, platforms, waterwheels and basins allow children to experience water motility in a variety of forms. When incorporated with sand and mud, these systems open up entirely new worlds of exploration on the playground.
Integral to Goric's water play products are its pumps, which attach to water mains and can be calibrated to accommodate the pressure and flow needs of the respective play environments. The Farm Pump is a manual hand pump designed for public water play. It emits water only when the handle is moved, mimicking the act of pumping water from a well. Water flow is shut off when the handle is in the downward position, and its construction prevents the mechanism from being jammed open.
For children, the pump offers important lessons in simple physics—the down stroke primes and the upstroke draws the water out. When connected to a public water supply, its water pressure (typically around 20 psi) can be calibrated to meet the requirements of the installation. On average, the pump dispenses ½ liter per pump. The pump is also available as a regular suction pump for reservoir installation.
Visually, the Farm Pump lives up to its name. Its rustic, cast-iron body adds a bucolic aesthetic to any play area, and the pump is available in a variety of colors. The standard forest green model is always in stock, and the pump can be purchased with or without the raised wooden platform. Easily incorporated into any of Goric's larger water play systems, the Farm Pump can also stand on its own, both structurally and artistically, within the textured landscape of a larger play area.
Routine maintenance of the pump's many moving parts ensures a long product life. The Farm Pump can readily be winterized by either blowing water out of the pressure reducer and hose or simply disconnecting and storing for the season.
Whatever the climate, the Farm Pump can be installed and utilized to serve its primary function: teaching children about their physical environment using water as an exceedingly valuable tactile tool.